Macrame Owl Wall Hanging Kit
or 4 payments of $4.95 with Afterpay
When's the last time you knotted a macrame owl?
The Macrame Owl Kit is an excellent introductory project for the "knotty" enthusiast to tackle for sweet home decor. The natural tones will work with almost any motif. This item would make an excellent gift for a crafty teen or nostalgic crafter. This is easily one of the most recognisable macrame projects out there, and it's been a popular project since the 60's!
If you're familiar with knot tying, we recommend this project for you to get back into the wonderful world of Macrame. This is an experienced level project which means that it requires a handful of knots and can take several hours for completion. Finished owl measures 30.5cm long from horns to "talons". Feel free to use your own creative spark to customise it and make it your own!
This kit contains enough materials to complete one owl wall hanging. It includes 29 meters of 4mm Bonnie Braid, 2 bamboo rods, 3 wooden beads and a set of fully illustrated instructions.
Once you've made your Owl from the kit, you can use the same instructions again and again – just purchase the materials and go for it!
Recommended accessories to complete this project:
Wooden beads and bamboo rods were made in China. Cord is made in the USA.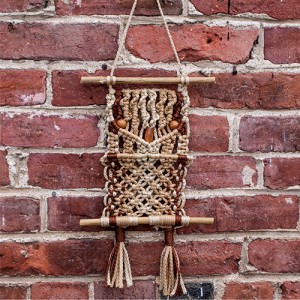 In stock