Macrame Plant Hanger Kit
Simple yet elegant – it's what we're all about at Simply Macrame and it's a big part of why we chose our name!
This macrame plant hanger is made using only a few different of knots, the kit includes everything you need including the wooden bead and central cord accents making the finished product look just as expensive as one you'd buy in stores. Though not entirely effortless, this macrame plant hanger makes for a great gift or introductory project for the "knotty" admirer. The natural tones of this hanger will mesh well with most interior designs.
If you can tie your shoes, you can create this project. This is an novice level project which means that it only uses a couple of repeated knots and can be completed in a relatively short span of time. The finished plant hanger measures about 91 cm from ring to tip.
This kit contains enough materials to complete one plant hanger. It includes 16.5 meters of 6mm Bonnie Braid, 1 metal ring, 4 wooden beads, and a set of fully illustrated instructions. This kit does not include a planter pot but they're easily sourced from your favourite garden shop.
Recommended accessories to complete this project:
Scissors
Ceramic or clay planter pot (available at most garden shops)
Wooden beads and metal ring were made in China. Cord is made in the USA. Package assembled in the USA.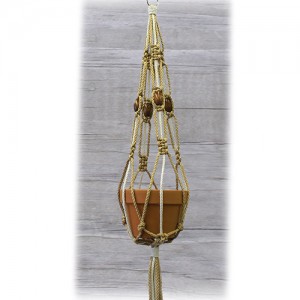 Out of stock
Notify me when the item is back in stock.