Macrame Dream Catcher Kit
Catch your dreams! Let the good ones in and trap the bad ones in the dream catcher.
This Macrame Dream Catcher kit is easy to make and can be customised to your liking. Unfinished wooden beads are included – write your wishes, dreams, and hopes on them to make them come true! This item would make an excellent gift; either make it yourself, or wrap it up as a wonderful craft project for your loved one.
If you can tie your shoes, you can create this project. This is an novice level project which means that it only uses a couple of repeated knots and can be completed in a short span of time. Finished dream catcher measures about 15cm round (ring size) to 35.56cm long.
This kit contains enough materials to complete one dream catcher. It includes 20 meters of assorted macrame cord, 1 metal ring, 4 wooden beads, 3 feathers and a set of fully illustrated instructions. Use your creativity and incorporate your own additions to this project. It's surprisingly easy to find feathers, sticks and other knick-knacks when you wander through your local park. Cockatoo and Kookaburra feathers make a wonderful addition!
Once you've made this once, you can use the instructions again and again to make your own unique dream catchers. Set your creative spirit free!
Recommended accessories to complete this project:
Scissors
Permanent Marker (optional for writing on beads)
Wooden beads, feathers metal ring were made in China. Cord is made in the USA.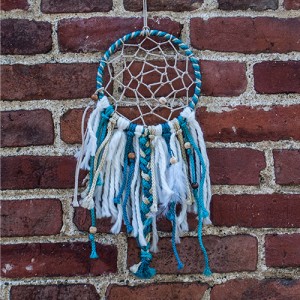 Out of stock
Notify me when the item is back in stock.